Hello everyone! Today is the last day of February & it's a leap year too! And I suddenly had an urge to write a book review so that's what I'm going to post for this week. =)
Starting around October-November of 2015, I got hooked into the new adult romance genre especially the sports-related ones (football & hockey especially). I was in need of a refresher as I was reading a lot of heavy novels and I wanted something light & fun to read. I was searching on Goodreads for suggestions & that's when I saw The Deal that is book 1 of the Off Campus Series by Elle Kennedy. I got intrigued by the synopsis because my black hole in books are nerdy girls that has strong personalities.
This series has 3 books so far & I'm not sure how many there will be in this series.
*all synopsis from Goodreads.com
The Deal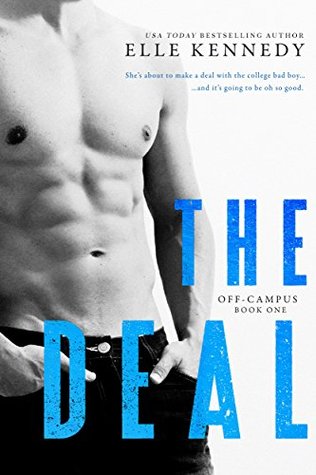 he's about to make a deal with the college bad boy...

Hannah Wells has finally found someone who turns her on. But while she might be confident in every other area of her life, she's carting around a full set of baggage when it comes to sex and seduction. If she wants to get her crush's attention, she'll have to step out of her comfort zone and make him take notice...even if it means tutoring the annoying, childish, cocky captain of the hockey team in exchange for a pretend date.

...and it's going to be oh so good

All Garrett Graham has ever wanted is to play professional hockey after graduation, but his plummeting GPA is threatening everything he's worked so hard for. If helping a sarcastic brunette make another guy jealous will help him secure his position on the team, he's all for it. But when one unexpected kiss leads to the wildest sex of both their lives, it doesn't take long for Garrett to realize that pretend isn't going to cut it. Now he just has to convince Hannah that the man she wants looks a lot like him.
The Mistake
He's a player in more ways than one…

College junior John Logan can get any girl he wants. For this hockey star, life is a parade of parties and hook-ups, but behind his killer grins and easygoing charm, he hides growing despair about the dead-end road he'll be forced to walk after graduation. A sexy encounter with freshman Grace Ivers is just the distraction he needs, but when a thoughtless mistake pushes her away, Logan plans to spend his final year proving to her that he's worth a second chance.

Now he's going to need to up his game…

After a less than stellar freshman year, Grace is back at Briar University, older, wiser, and so over the arrogant hockey player she nearly handed her V-card to. She's not a charity case, and she's not the quiet butterfly she was when they first hooked up. If Logan expects her to roll over and beg like all his other puck bunnies, he can think again. He wants her back? He'll have to work for it. This time around, she'll be the one in the driver's seat…and she plans on driving him wild.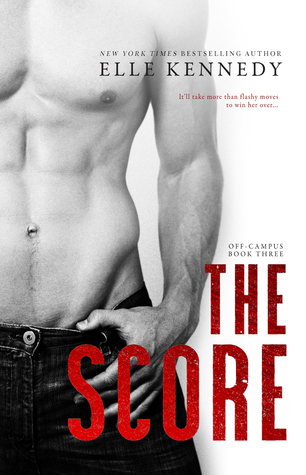 He knows how to score, on and off the ice

Allie Hayes is in crisis mode. With graduation looming, she still doesn't have the first clue about what she's going to do after college. To make matters worse, she's nursing a broken heart thanks to the end of her longtime relationship. Wild rebound sex is definitely not the solution to her problems, but gorgeous hockey star Dean Di-Laurentis is impossible to resist. Just once, though, because even if her future is uncertain, it sure as heck won't include the king of one-night stands.

It'll take more than flashy moves to win her over

Dean always gets what he wants. Girls, grades, girls, recognition, girls…he's a ladies man, all right, and he's yet to meet a woman who's immune to his charms. Until Allie. For one night, the feisty blonde rocked his entire world—and now she wants to be friends? Nope. It's not over until he says it's over. Dean is in full-on pursuit, but when life-rocking changes strike, he starts to wonder if maybe it's time to stop focusing on scoring…and shoot for love.
I love the cover! I really like the fact that it doesn't show the face of the model. I really prefer to imagine my lead hero's face. And why would I complain with these bodies? Haha seriously though, many might think this is romance if they see the cover but this is only a tad more mature compared to young adult books but it's definitely not on the level of 50 Shades. I just think football players are stereotyped as hot & sexy so they used these as covers.

As a whole, I love the fact that all 3 of these stories are not "love at first sight" and all of the characters are interconnected in a way, thus making it a series. I also love the fact that the stories doesn't feel rushed even though it's not a thick book. The author took her time to show her readers how the main characters develops throughout the story. You will also see the development of the different characters that surround the main leads so you know that if ever Elle Kennedy decided to pursue & continue this series then you'll definitely be excited for it since you have already loved that character that is somewhat an extra of each book. For example, Logan from book 2 was introduced as Garrett's best friend in book 1. There's also Allie that first made an appearance in book 1 & also in book 2 before she became the lead of book 3. I really enjoyed reading how these characters interact with each other & gets updates for each book.
I also love the author's writing style. She writes in a way that you feel like you are watching it as a TV series. I love the dialogues & the jokes. Nothing is forced or too cheesy, at least for me. I know there are cliches there but it was used so perfectly that I didn't care that much haha. If you love a new adult romance and also love football players then this is definitely a good series to start.
I definitely give this entire series a 4.5/5 RATING, I didn't give it a 5 just because the storyline per se is predictable. I really hope Elle Kennedy will continue this series. =)
What's your favorite New Adult Romance or sports related book? Please share them in the comment section below so I can add it to my TBR list. =)
Thank you for dropping by!