Hello fellow bookworms! =)
I decided to continue reviewing the New Adult sports-related books I have read lately. After I read the Off Campus Series by Elle Kennedy (just click here for my review on this), I decided to try more sports-related romances & per Goodreads' recommendation, Game On Series by Kristen Callihan is the one to try.
This series currently have 3 books & I'm not sure how many books it will be or if this is it.
*all synopsis are from Goodreads.com*
The HookUp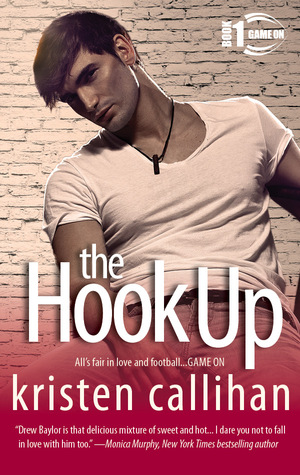 The rules: no kissing on the mouth, no staying the night, no telling anyone, and above all… No falling in love.
Anna Jones just wants to finish college and figure out her life. Falling for star quarterback Drew Baylor is certainly not on her to do list. Confident and charming, he lives in the limelight and is way too gorgeous for his own good. If only she could ignore his heated stares and stop thinking about doing hot and dirty things with him. Easy right?

Too bad he's committed to making her break every rule…

Football has been good to Drew. It's given him recognition, two National Championships, and the Heisman. But what he really craves is sexy yet prickly Anna Jones. Her cutting humor and blatant disregard for his fame turns him on like nothing else. But there's one problem: she's shut him down. Completely.

That is until a chance encounter leads to the hottest sex of their lives, along with the possibility of something great. Unfortunately, Anna wants it to remain a hook up. Now it's up to Drew to tempt her with more: more sex, more satisfaction, more time with him. Until she's truly hooked. It's a good thing Drew knows all about winning.
All's fair in love and football…Game on.
The Fried Zone
Gray doesn't make friends with women. He has sex with them. Until Ivy.

The last thing star tight-end Gray Grayson wants to do is drive his agent's daughter's bubblegum pink car. But he needs the wheels and she's studying abroad. Something he explains when she sends him an irate text to let him know exactly how much pain she'll put him in if he crashes her beloved ride. Before he knows it, Ivy Mackenzie has become his best texting bud. But then Ivy comes home and everything goes haywire. Because the only thing Gray can think of is being with Ivy.

Ivy doesn't have sex with friends. Especially not with a certain football player. No matter how hot he makes her…

Gray drives Ivy crazy. He's irreverent, sex on a stick, and completely off limits. Because, Ivy has one golden rule: never get involved with one of her father's clients. A rule that's proving harder to keep now that Gray is doing his best to seduce her. Her best friend is fast becoming the most irresistible guy she's ever met.

Which means Gray is going to have to use all his skills to get himself out of the friend zone and into Ivy's heart. Game on
The Game Plan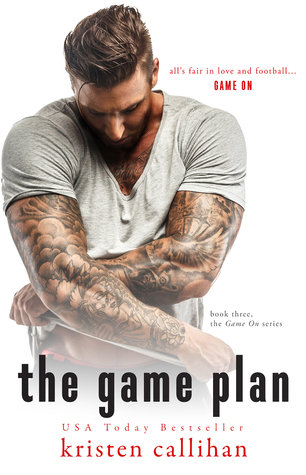 A beard-related dare and one hot-as-hell kiss changes everything.

NFL center Ethan Dexter's focus has always been on playing football and little else. Except when it comes to one particular woman. The lovely Fiona Mackenzie might not care about his fame, but she's also never looked at him as anything more than one of her brother-in-law's best friend. That ends now.

Fi doesn't know what to make of Dex. The bearded, tattooed, mountain of man-muscle looks more like a biker than a football player. Rumor has it he's a virgin, but she finds that hard to believe. Because from the moment he decides to turn his quiet intensity on her she's left weak at the knees and aching to see his famous control fully unleashed.

Dex is looking for a forever girl, but they live vastly different lives in separate cities. Fi ought to guard her heart and walk away. But Dex has upped his game and is using all his considerable charm to convince Fi he's her forever man.
MY REVIEW:
As a whole, I really really love this series! I'm totally giving it a 4.5/5 rating because even though the premise of the story is not that unique like most sports-related romances I have read, the execution is superb. I really enjoyed reading each of these books as I like that every character is interconnected & so you can still see the progression of their love story through the eyes of a different character. My favorite among the 3 is Friend Zone. Actually, come to think of it, I believe Friend Zone is my favorite sport-related New Adult romance of all time because it has all the elements I wanted in a book. The main hero Gray is a very smart & talented man who adores her girl. While the heroine Ivy is such a strong character & so unique plus I really love the fact that she's not whiny. Also, i really enjoyed their love story as it is a slow burn & not insta love. They are mature in their decisions & have shown real emotions, no over drama.
I will definitely recommend this series to everyone who love romances. You won't regret this, i promise. =)
Thank you for dropping by!